Ukraine's Nightlife Scene for Single Guys
Submitted 4 years 3 months ago by Aleksey.
The club and bar scene is going to vary wildly in between Ukrainian cities. Ukraine is a very big country and different regions have different mindsets. Odessa and Kiev are very cosmopolitan, the East and the Center- not so much. The West is Catholic and can be tolerant or intolerant depending on the city. It really depends. On average, in major cities, you can see maybe two black people a day and maybe one oriental looking person. It really depends. Outside the big cities of Ukraine it's 100% Ukrainian.
If you plan to go out to the drinking scene as a way to meet people, you should do further research on the individual cities here and see which ones fit your style best. It would be horrible to get all the way to Ukraine only to learn that the city you chose has nothing to do at night.
In general, normal Ukrainian people don't go to high end clubs (only on special occasions), they go to moderate to low end social clubs that feature restaurant food, bar drinks and karaoke. A normal Ukrainian woman seeks a monogamous partner whereas other types split their effort up among multiple men for temporary engagements.
Here's a quick break down of Kyiv:
Most restaurants have at least one English speaking waiter, and they will basically all have menus in English.
Nightlife venues
You won't be having one night stands unless you pay for it. That's life in Kiev, and you won't change it. Don't get me wrong, it's possible, but it is very rare and like nothing you've probably ever seen before. They don't actually care you are a foreigner, for your game or your little pretty face.
MAINSTREAM:
CHI: on some nights, it is full of beautiful women, and is even better than the most exclusive clubs of Moscow. However, very few normal girls. You will quickly find out it's all an illusion: the same girls come over and over again, and they are looking for sponsors. They will be with you if they feel they can get something in return (like most business deals). The name of the game is to take a table, date her in a fancy place in Kiev e.g. Alaska and later invite her to a rich capital for an expensive trip.
Caribbean Club: a bit sketchy (lots of escorts hanging around) but worth the venture. Expect a lot of mostly naked dancers, both male and female. Bottle service is the way to go here as the bar is really awkwardly set up if you don't do that.
Coyote Ugly: The same one you may have been to in the USA, expect the same shenanigans but with Ukrainians. Sometimes it is dead, in which case Shooters is just a 10 minute walk, but Thur/Fri/Sat are normally good.
Avalon entertainment complex: Great place to take in the view of the sun setting over the city with some chilled music playing. Ground floor has a different vibe though with lone women at tables trying to make eye contact. Used to be a good place, last time I went was LITERALLY 90% guys. I don't know what happened, might have been bad luck.
Closer: Great for dancing, awful for drinking! This is an authentic techno club with an outdoor multilevel dance floor, popular with the locals (real locals not paid girls). It has an appalling poor drinks menu but this place is where you come to dance.
Forsage: If you are white or black and western, you can have a good time. If you look Latino, avoid like the plague as those girls are young and not so worldly and will assume you are a low end Arab sex tourist, even if you are the best dressed guy in the place.
Sorry babushka: improved version of forsage
Skybar: is the top club in Kiev. It's basically CHI for poorer people who want to pretend they are rich. A lot of girls looking for sponsors, but more human than CHI, easy to pick up specially in the smoking area. All of this can be applied for the whole ARENA area.
The Bar: girls go there to practice their English. Bad ratios and the girls that you will pick up are low end by Ukrainian standards.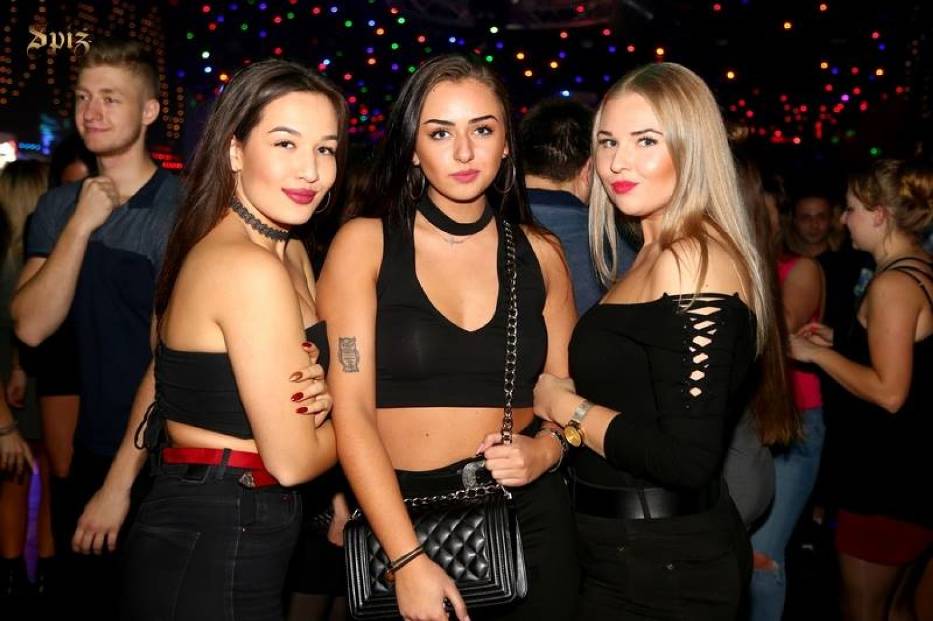 SOCIAL CLUBS:
Shooters: this place is either the best in Kiev on the nights it goes off or there is no one there—no in between. Definitely go but try to make sure it's on a busy night. You'll see body shots, towers of drinks on fire, people getting hit with shit while they are wearing a helmet, all sorts of stuff.
Beeze Restaurant & Karaoke: This is full of wealthy Ukrainian young guys/girls (the elite of Kiev age 17-20). If you look Latino, avoid like the plague as they'll assume you are an Arab sex tourist
Indigo: This one is famous though. Young crowd, many barely legal.
Just C.A.F.E: my favorite place, it's a karaoke bar, you have some normal girls. Music is not loud so you can approach. Don't be scared to approach the groups of girls sitting down, they are more receptive than in CHI. If you look Latino, avoid like the plague as they'll assume you are an Arab sex tourist.
Coin Restaurant: fancy restaurant, hard to approach
Alaska Kyiv: exclusive bar and restaurant. Same girls as CHI, so same principle applies
SMALLER BARS:
Parovoz Speak Easy - a small bar pretty close to arena. Good for a date or meeting friends for dinner/cocktails. If you are making a night of it, it's close to Banka Bar
Banka Bar - a crazy little place with strong cocktails and campbell soup can wallpaper. They have a cocktail called a one way ticket. 2 absinthe shots (smoked and drank), 1 sambuka, and a foaming over bear, in a row, for $6. Go with your boys to pregame and chat up some groups of girls.
Barbara Bar - Multi floor complex, pretty relaxed with a nice rooftop. Great place for a date or meeting girls. Personally I liked the Kiev Mule cocktail.
PR Bar - Great place to pregame on Wednesday nights as it's the Couchsurfing meeting.
Palata No 6 - More of a bro pregame spot than anything, but check it out. Its a hospital theme, with the highlight being when you put on a fireproof coat, soldier helmet, and get hit on your head (which is on fire) but everything from wrenches to fire extinguishers to kegs while taking a series of 3 shots in a row. The bartenders are wearing scrubs and they also have great platters of shots served in test tubes.
LIVE MUSIC BARS
HABANA - Nice pace for dancing salsa/bachata and some cocktails. Friday evening is the best day to be here. You should love Latino dances and music. Drinks are affordable. Friendly people go there. Have a positive mind and have fun
Buena Vista - This is my go to place every weekend in the winter. Nice cuisine, live music on Friday and Saturday evenings, the atmosphere and people you meet there are great! Alone or with friends, this place will not leave you bored. However, sometimes you have to wait a long time for food.
BEACH CLUBS:
Beach clubs are where you must spend every summer Saturday and Sunday afternoon in Kiev. Just do it. They have drinks and food to cure your hangover, if the sight of the sexiest women you've ever seen doesn't do the job.
UBK -
The venue is a pain to get to, as you have to walk across the pedestrian bridge close to Poshtova Ploscha, hang a right and walk about 300 meters and you can't miss it. Fridays and Saturdays are the prime time here, and the line can get quite long. There's a dance floor, a whole bunch of sitting areas, and a beach for you to get some privacy. They let everyone in and cover is $2. Also, a fantastic 1st or 2nd date is meeting at poshtova ploscha and walking across the bridge with a girl to here. If it's a 2nd date and she has never done it, you can also zipline with her across the river for $8.
City Beach Club -
Get here early -1030am-, its first come first serve and you'll want a sun bed. Cost is $32 and you get 4 people in for that. Otherwise you'll be paying $8 each anyway for a way less social place you can bring girls back to. I found the pools the best place to talk to girls, but you have lots of options. Loud music and great parties on the weekends.
Bora Bora Beach Club -
My personal favorite. Get a centered sun bed and chat away to girls. Relaxed vibes and friendly people overall. They do reservations so you don't have to get here quite so early. Also a good option on the weekends for a night party.
Olmeca Beach Club -
More relaxed, and a bit less social than the other two. $320 deposit for a table gets you 10 people in. Good luck using it up, we had 30 shots, a bottle of vodka and mixers and we still had enough left to order over 15 bottles of champagne.
Is Kiev good for you? Well, it can be if you are a stoic person. The great things you hear about Ukrainian women are coming from more of the small town traditional girls. If you have the money, hire a guide to show you around.